LA CROMOTERAPIA

La cromoterapia es un método de armonización y de ayuda a la curación natural de ciertas enfermedades por medio de los colores. Los colores corresponden a vibraciones que tienen velocidades, longitudes y ritmos de ondas diferentes. Estos ejercen una influencia física, psíquica y emocional que nosotros no somos consientes en general y que permite a nuestra energía vital de tener un estado que facilita la auto sanación. Es tan potente esta Luz fotónica generada que no se debe usar mas de 10 minutos en un mismo paciente.

La cromoterapia y la helioterapia (terapia por medio de los rayos del sol) fueron muy importantes en la práctica de la medicina tradicional de las grandes culturas como la China, la India y la Grecia.
Ciertos colores son astringentes como el rojo, el naranja o el amarillo. El azul ayuda a la extroversión , mientras que el rojo permite la introversión. Ciertos colores como el rojo y el naranja hacen subir la temperatura de una habitación; son los llamados colores calientes. Otros por el contrario como el azul, el índigo o el gris son colores fríos.
Ideal para armonización de Chacras o "Centro de Energía". La Geometría Sagrada y musicoterapia potencia los fotones de Luz emitidos por el lápiz LED.

| | | | |
| --- | --- | --- | --- |
| COLOR | ACCION FISICA | ACCION PSIQUICA | ELEMENTOS Y PLANETAS CORRESPONDIENTES |
| ROJO | Estimulante del higado y a la circulación de la sangre. Ayuda en la bronquitis , de la impotencia y el reumatismo. | Estimula el espiritu por las pruebas a corto termino | Fuego, Sol |
| NARANJA | Color antifatiga, estimula el sistema respiratorio y ayuda a la fijación del calcio. | Favorece la buena relación cuerpo-espiritu, aumenta el optimismo, tonico sexual. | Agua, Luna |
| AMARILLO | Da energia al sistéma digestivo y tono a los musculos | Estimula el intelecto, antifatiga mental, antimelancolia | Madera. Marte |
| LIMON | Desintoxicación. Estimula los huesos. Estimula la vitalidad en los disturbios crónicos. | Estimula la concentracion. | |
| VERDE | Color sedativo, Reposa y fortifica la vista. Tempera la exitacion sexuel.Disminuye la tensión sanguinea. Mejora las ulceras | Calma el insomnio. Calma la nerviosidad y la cólera. "Cambia" las ideas. | Tierra, Mercurio |
| AZUL | Antifiebre. Antiséptico y astringente. Refrescante. Ayuda en el asma, el exeso de peso. La celulitis. | Combate el egoismo. Efecto de paz y tranquilidad. El azul "abre" la mente. | Jupiter |
| VIOLETA | Tiene buenos efectos sobre los casos siguientes: siatica,epilepsia,contracturas y anemias. | Disminuye la angustia, las fóbias y el miedo. Elimina la rabia y la violencia. | Aire, Saturno. |
| PURPURA | Tratamiento de la frigidez, vasodilatador | Color hipnótico. | |
| ESCARLATA | Vasoconstrictor. Estimulante de los riñones. Aumenta la tension sanguinea. | Color de la sensualidad. Controla la tristeza. | |





Los bombillos del Lápiz LED son cambiable y pueden trabajar 2 colores al tiempo. Ideal para liberación de dolor y emociones negativas cristalizadas.
Video descripción básica:
Cromoterapia Parte 1:
http://www.youtube.com/watch?v=ms2NHPmJMYI
Electroterapia con Rayo Violeta Eléctrico Parte 4:
Descripción en Inglés: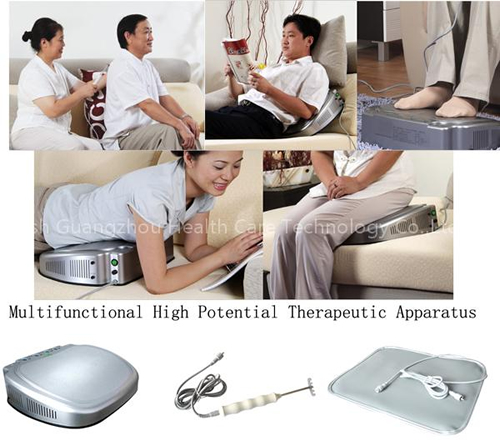 Multifunctional High Potential Therapeutic Apparatus
Are you suffering from


Neurasthenia,


high blood pressure,


cervical spondylosis,


lumbar discherniation,


Omarthritis, such as the treatment of chronic fatigue syndrome at the same time on clinical insomnia,


constipation,


coronary heart disease,


diabetes,


heart neurosis,


cerebral insufficiency,


bronchial asthma,


SARS after brain injury,


cerebral infarction,


menopause syndrome,


Facial pain disorders,


psoriasis,

Now you can possibly help yourself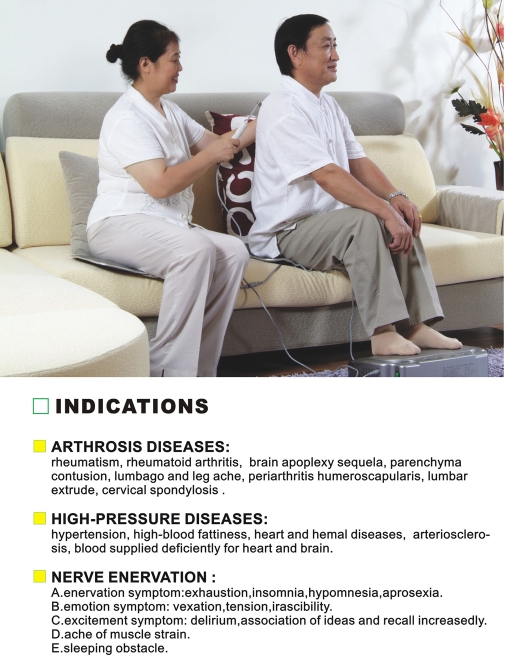 Principle:
1. Negative therapy
:Scientific practice suggests that the appropriate strength of the electric field will have a beneficial impact on each part of the body cells. The high potential therapy is based on the biomedical theory putting the body in a high-voltage alternating low-frequency electric field; then the cells, body liquid and nerves, which are affected by the synthesized functional silent discharge of the Electric field, flowing of the air ions and ozone etc, keep the anion cation balance according to the action of an electric dipole field.

Multifunctional High Potential Therapeutic Apparatus can produce -6000V to -9000V electrical feild around the body by using high voltage static electricticity which makes the output terminal discharge silently. Thus they produces negative ions which make the indoor air fresh and regulate the blood circulation, nervous system, endocrine system, digestion and metabolism of the whole body.
After negative ions enter the human body, they help excellent regulation and recovery of the nervous system of the whole body and gradually adjust the acidized morbid state to an alkaline state.
Balance PH-value purify the blood, activate the cell, tone the automatic nerve, supply the static energy needed by the human body.Helps keep the body in balanced vigorous.state
An old Saying
"A man who has feet is just like a man who has roots.A tree becomes dried up starting from its roots,and a man becomes old starting from his feet".
2. Heat therapy
The basic method of Heat Therapy is to apply proper temperature to the feet, conduct heat to the deep part of the organism so that partial channels and acupoints get mild nourishing, blood circulates freely, and other functions are enhanced.
The traditional Chinese medicine says:" the blood circulation will be improved if it's hot, and it is curdled if it's cold. To apply heat and dispel cold, to stimulate circulation to end stasis." If it moves then there isn't any pain; if there is pain, it does not move. Via far infrared Heat Therapy one applies appropriate temperature on the exterior skin, which stimulates and massages the acupoints of the foot, and consequently propels the blood circulation, strenghtens the endocrine system, eliminates pain. It can help rectify various diseases such as cardiovascular disease, neuropathic pain and endocrine dysracia.

3. Optical therapy
This high potential apparatus uses 76KHz medium frequency alteration electric field upon the body so that the fluctuation can evenly spread to the surroundings of the body, thus producing biological energy and help the body keep balance and work in a vigorous manner.
Funtion Mechanism of Optical Therapy: at 76KHZ/second medium frequency electric field (light fluctuation energy) upon the body so that the fluctuation can evenly spread to the surrounding areas of the body producing biological energy
Stimulates and massagex the bodies cells, and make the body temperature rise 1-2 degrees. Use optimal mode for half an hour, it's like doing outdoor aerobic exercise for 3 hour.
The 76000 Hz/sec micro vibration using light wave improves functions of the cells for the whole body, producing a heating effect and helping raise thebody temperature 1-2 degrees, smooth the blood, and strengthen the circulatory function; it also helps encourage the body to burn fat and achieve the result similat to that of body building and beauty treatment, and assist the body in keeping its natural balance balance and vigor
Function and Features:
This high potential therapy is the most advanced therapeutic products in the world at present. It is integrated with heat therapy, negative therapy and optical therapy. While during the treatment, you feel like have taken a refreshing walk in a beautiful forest.
It can activate cells and accelerate metabolism. The negative ions generated by negative high potential electrostatic fields can activate the ATP enzyme of the cell membrane. The generation and increase of ATP enzyme improve the selectivity and permeability of the ion of inner and outer cells, stimulate the energy of the cells, accelerate metabolism, delay organic aging, and help various metabolic diseases, such as diabetes and high blood lipid. Secondly, it can purify blood and make the acidic blood become alkalescence. The increase of acidic matters in the blood will cause the rise of blood lipid, increase in viscosity of the blood, and deterioration of permeability of the blood vessel.
The negative ion will increase the proportion of calcium and natrium in the blood, making the acidic blood become alkalescence, and consequently decrease the viscosity of the blood and the blood lipid. It helps various vascular diseases, such as arteriosclerosis, coronary heart disease, myocardial infarction, and those common diseases among middle aged and elderly people. Thirdly, it may help adjust the autonomic nerve system.
The autonomic nerve can be divided into sympathetic nerve and parasympathetic nerve. When in physiological excitement, the parasympathetic nerve will distend the blood vessel, cause a fall in blood pressure, accelerate the gastrointestinal peristalsis; if the sympathetic nerve is in the over-excitement status, it will cause symptoms such as stress, insomnia, tiredness, lumbago and
pain of back. The negative high potential will normalize the autonomic nerve, therefore it has a remarkable effect on menopaus, cardiovascular disease, gastrointestinal problems"
a) Balances PH-value
b) Purifies blood
c) Activates cell
d) Tones autonomic nerve
e) Supplies static energy needed by human body
2) Heat therapy:
a) Stimulates and massages acupoints via far infrared
b) Unblocks artery and promotes blood circulation to dispel
blood stasis
3) Optical mode therapy
a) Stimulates and massages whole body cell and makes
body temperature rise by 1 - 2 degrees
b) Using optical mode for half an hour is like doing outdoor
aerobic exercise for 3 hours
4) Negative potential electrotherapy: Our negative potential electrotherapy will put the human
body in the negative high potential electrostatic field, and it will generate
negative ion to work on the human body.

---enhancing the vitality of cells.

---purify the blood and tone the autonomic nerve.

---30 minutes' optical therapy is equal to outdoor aerobic exercise for three hours.

---stimulate and massage acupoints of the feet, unblock artery and promote blood circulation.

Range of use:

---people with arthritis diseases: rheumatism, parenchyma, lumbar extrude etc and high-pressure diseases and nerve enervation.

---people with ill-health: menopausal syndrome, persistent fatigue, sleeplessness, poor appetite etc.

---people with good health: to relieve fatigue, prevent disease, keep fit.

---people who have stomach upset, abstraction, rheumatoid arthritis or feel weak due to long illness, etc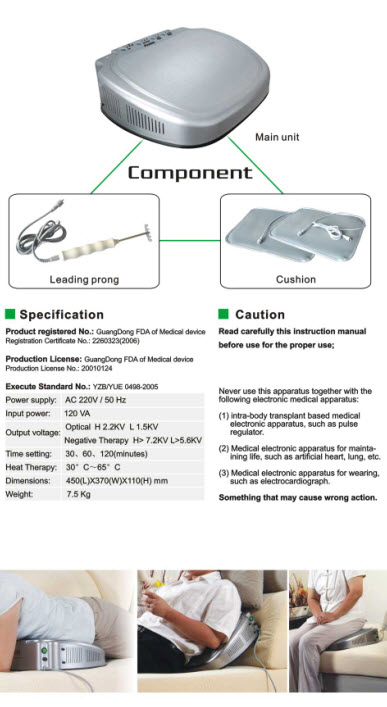 Manual Original
Specification:
Power AC220v - 110v,
Frequency Optical 76KHz
Highest Voltage =12000V

Información de Contacto:

Si tienes preguntas por favor contactanos. Responderemos lo mas pronto posible.

Correo electrónico: DANNY ALEXANDER ROZO FUQUEN info@conexionvital.org
Celular: 3112664577 (Bogota Colombia Sur America)
Sesión Personalizada $50.000 En Bogota con Cita previa www.conexionvital.org